Venue & Hospitality
Hotel Services & Amenities
Audio/Visual Equipment Rental.
Business Center.
Business Phone Service.
Complimentary Printing Service.
Express Mail.
Fax.
Meeting Rooms.
Office Rental.
Photo Copying Service.
Secretarial Service.
Telex.
Typewriter.
Video Conference.
Video Messaging.
Video Phone.
ATM.
Baggage Storage.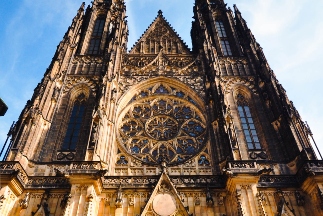 About City
Prague, the capital city of the Czech Republic, is a popular tourist destination known for its rich history, stunning architecture, and vibrant cultural scene. Prague Castle is magnificent castle complex is the largest ancient castle in the world and a symbol of Czech history. It includes St. Vitus Cathedral, the Old Royal Palace, the Golden Lane, and various other buildings. Charles Bridge is iconic bridge spans the Vltava River and is adorned with statues of saints. It's a pedestrian-only bridge and a great spot to soak in the atmosphere, listen to street musicians, and enjoy beautiful views of the river and the city. Old Town Square, which is located in the heart of Prague's historic centre, the Old Town Square is a lively gathering place surrounded by colourful baroque buildings.
Astronomical Clock Housed in the Old Town Hall, the Astronomical Clock is one of the oldest and most elaborate clocks in the world. St. Vitus Cathedral is features intricate stained glass windows, beautiful chapels, and the tombs of several Czech kings and Holy Roman Emperors. Wenceslas Square is a bustling square and a prominent cultural and commercial hub, Wenceslas Square is lined with shops, hotels, restaurants, and bars. Prague's Jewish Quarter, known as Josefov, is a historic neighbourhood with a rich Jewish heritage. It is home to several synagogues, including the famous Old New Synagogue, the Jewish Cemetery, and the Jewish Museum.
Vyšehrad is historic fortification, situated on a hill overlooking the Vltava River, offers panoramic views of the city. Vyšehrad is home to the Vyšehrad Cemetery, where many famous Czech figures are buried, and the neo-Gothic Vyšehrad Basilica. Prague is renowned for its beer culture, and sampling traditional Czech beer is a must-do for visitors. The city also offers a range of delicious traditional dishes such as goulash, svíčková, and trdelník.
Tourist attractions in Prague
Prague Castle
Charles Bridge
Old Town Square
Astronomical Clock
St. Vitus Cathedral
Wenceslas Square
Josefov (Jewish Quarter)
Vyšehrad
Czech Beer and Cuisine
Rosenberg Ballroom
Brno City Museum